Welcome to Flora & Curl 2.0
-
Flora refers to plant life. Our range has been carefully developed to cater to the basic needs of natural hair to hydrate, soothe, style and protect with plant-powered ingredients.
Our mission is to encourage our customers to embrace their natural texture, with ease and enjoyment.
👉🏽 Wanting to start your curl journey but unsure of where to begin?
We have created a range to help you meet your curl goals! ✔️
👉🏽 Looking to simplify your current routine and save more time?
We make taking care of your natural hair super simple ✔️
👉🏽 Looking to switch to plant-powered ingredients and make your hair smell amazing, naturally?
We use high quality, plant-powered ingredients and 100% naturally derived fragrances to sensorially elevate your haircare experience. ✔️
👉🏽 Looking to reduce the amount of plastic in your haircare and become more eco-friendly?
♻️ Our beautiful bottles are made out of aluminium!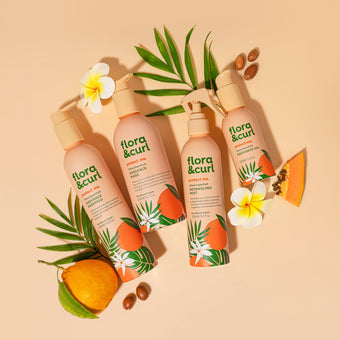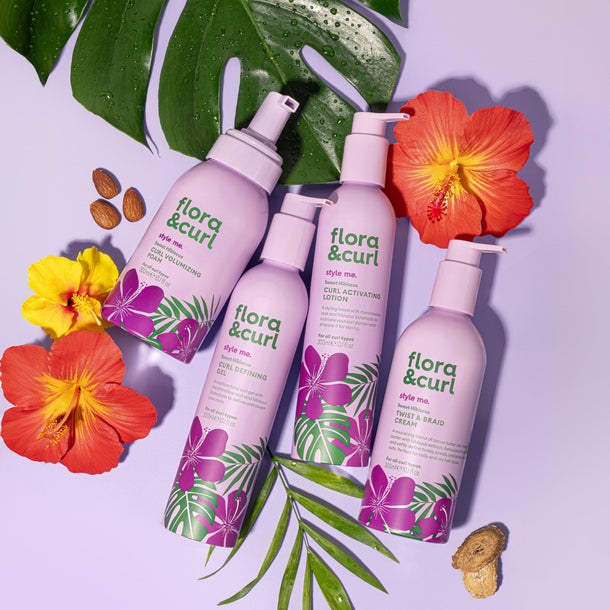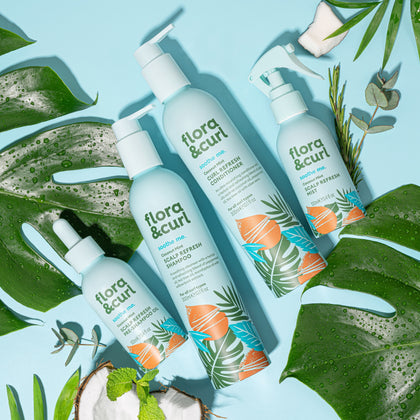 Our mission is to make textured haircare simple and sustainable.
Our bottles are made in aluminium. Did you know? 💡 Compared to plastic, aluminium is infinitely recyclable!
style me.
hydrate me.
soothe me.
protect me.
Are you looking to add definition to your hair? Do you want to add some shine and volume? If so, then our Style Me range is for you.
Formulated to add definition, shine and volume to curls, it is botanically infused with pure, curl-loving natural ingredients to deliver healthy definition.
Target those dry stands, adding moisturise back into your routine.
Formulated with a blend of super-hydrating botanicals, such as Rose Water with Hibiscus, Jasmine with provitamin b5, Aloe and Honey.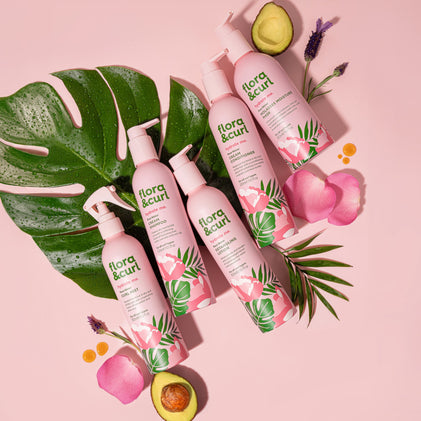 Discover our 360, plant-powered scalp care range that promotes a healthy and balanced scalp by cleansing and removing scalp build-up.
Featuring Lavender, Eucalyptus, Tea Tree, Willow Bark Extract and raw mineral clays. A healthy scalp always means healthy curls.
Protect your hair with our Protect Me range, primarily targeting dull and weather-worn curls naturally, using a blend of plant oils rich in Vitamin C, Vitamin E and anti-oxidants, including Sweet Orange and Argan Oil.
External agents such as harsh weather, heat, over-styling and oxidization can damage hair. Care for your curls with an extra layer of protection daily.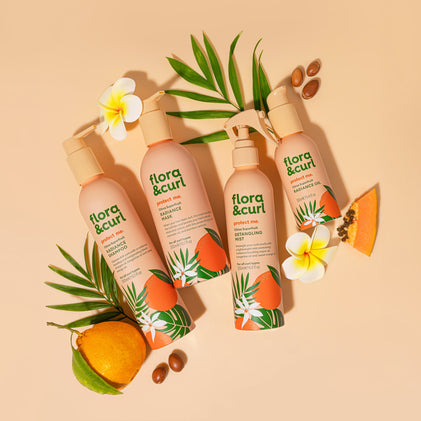 Founder's Note
It all started for me when I made the decision to stop straightening my hair and embrace my natural hair texture. I didn't know where to start and I felt overwhelmed about where to begin my healthy hair journey. I created Flora & Curl out of a desire to simplify my own haircare routine and to save more time in my busy schedule. My goal is to reduce the noise, and provide clarity by developing a streamlined range for textured hair. Since we started in 2017, we have helped thousands of customers take care of their hair with our plant-powered and sensorial range. Each fragrance contained in each collection is special to me, and takes me back to creating the formulations from scratch in my mum's kitchen.
The aim of this rebrand is to further elevate the textured haircare experience, and to show that textured haircare does not have to be complicated. It's possible for haircare for to be simple, enjoyable and now, eco-friendlier.
Rose Ovensehi
Founder and CEO
Flora & Curl